When developers break ground Thursday on the first phase of the planned $150 million Astoria Square project in Millington, many hope it will not be just a banner project, but the jumping-off point for a new phase of growth for the city.
Developer Jeff King, who is spearheading the project, said after a period of stagnation in the suburb, Millington has seen several years of focused growth efforts, making it desirable to build in. The development is a collaboration between Meridian Premier Homes and Pro-Site Construction, and the architect on the project is A2H.
Astoria Square will be located off Navy Road between East Navy Circle and National Street and will include mixed-use retail, 280 luxury townhomes with rooftop decks, cottage-style homes, a clubhouse, common areas, a lake and ― as the name implies ― a large central square.
That plaza is intended to have the feel of an old-school town square but with modern retail and dining options. The square will also have a stage for weekend live music and space for food trucks.
"It's gonna be very nice," said Terry Roland, executive director of the Millington Area Chamber of Commerce. "It's gonna provide lots of jobs. It's gonna help our schools tremendously. Plus, it's gonna be right there next to the naval base. So these folks coming and going out of the base can take advantage of that."
The project will also feature a microbrewery and loft-style apartments. A 37-acre park will have event space, a dog park and walking trails. The architecture of each section of the development will vary, giving the look of different neighborhoods within the project.
"The goal of this is kind of to create something unique in Millington, that can kind of be a stepping stone or a launch point for, kind of, the gentrification of the whole Navy Road area," King said. "We're trying to do something that's kind of upscale, upscale living, upscale commercial."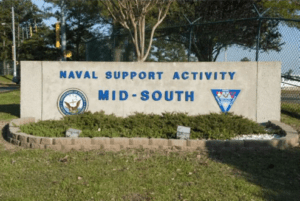 The development group is looking to attract businesses like Starbucks, a nice hotel ― which could also serve the baseball tournaments held nearby ― nail salons and quality restaurants.
"We're just trying not to stay at that 'let's fill up a strip center' kind of mode," King said. "Everything's got to have a purpose and blend and work with what with the vision."
A tax increment finance district has been established to help finance the phased development.
Why Millington, why now
The development would be a relatively short drive from BlueOval City, a factor Roland thinks will be attractive for many who seek jobs at the site or with the numerous ancillary businesses that will set up in the area to serve the Ford plant.
While those in rural portions of Haywood County are scrambling to accommodate increased residential demand, Roland said Millington has the infrastructure, like sewers, water lines and electricity, to absorb new residents and residential development.
You can live in a smaller town and be close to BlueOval City but still easily get into Memphis for a show at the Orpheum or a Grizzlies or Tigers game.
"In Millington, you can kind of get Mayberry and still take advantage of all the amenities that Memphis has to offer," Roland said.
King cited the proximity to BlueOval City, the naval base and the amenities Memphis has to offer as attractions to develop in Millington, but said there were other factors for him as well. He said public officials in Millington seem to work together, making it a much easier city to develop in.
"The city has been amazing. Just, 'What can we do to help you? Who do you need to contact? You need financing?'" he said. "From that perspective, it makes me want to do developments up there."
He also believes the suburbs around Memphis will continue to grow and attract new businesses. Silo Square in Southaven has continuously grown, adding new residents and new businesses at a steady clip. Construction is ongoing at the Lake District development in Lakeland, stores are welcoming shoppers and more are poised to open their doors soon.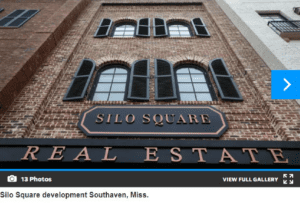 Millington recently celebrated the groundbreaking of Forked River Commons, a $58 million shopping center that will host a Hobby Lobby, a TJ Maxx, Old Navy, Ulta and other similar stores people have long gone to Memphis or Germantown to shop at, Roland said.
The $100 million Millington Farms project is slated to hold a retirement home, a bowling alley, a movie theater and hotels.
King said he's seen the "flight to space" that characterized the early days of the pandemic continue. While many people still want the benefits that come with living in an urban environment, he has seen a continued trend of people seeking larger living spaces and more personal outdoor space.
He's seen properties in Byhalia, Oakland and Somerville get snapped up at an increasing pace.
Roland echoed that sentiment. He frequently fields calls from people moving into the area from California and Virginia, many are Navy personnel who were formerly stationed at the base. After leaving active duty service, they wanted to move to an area they know with a low cost of living.
"I think Memphis, and Shelby County, is sitting in a perfect spot, especially with the economy like it is," he said.